The Carriage House 
Of Sanger House Gardens
Bed and Breakfast Milwaukee





1823 N Palmer St, Milwaukee, WI 53212





(414) 640-6003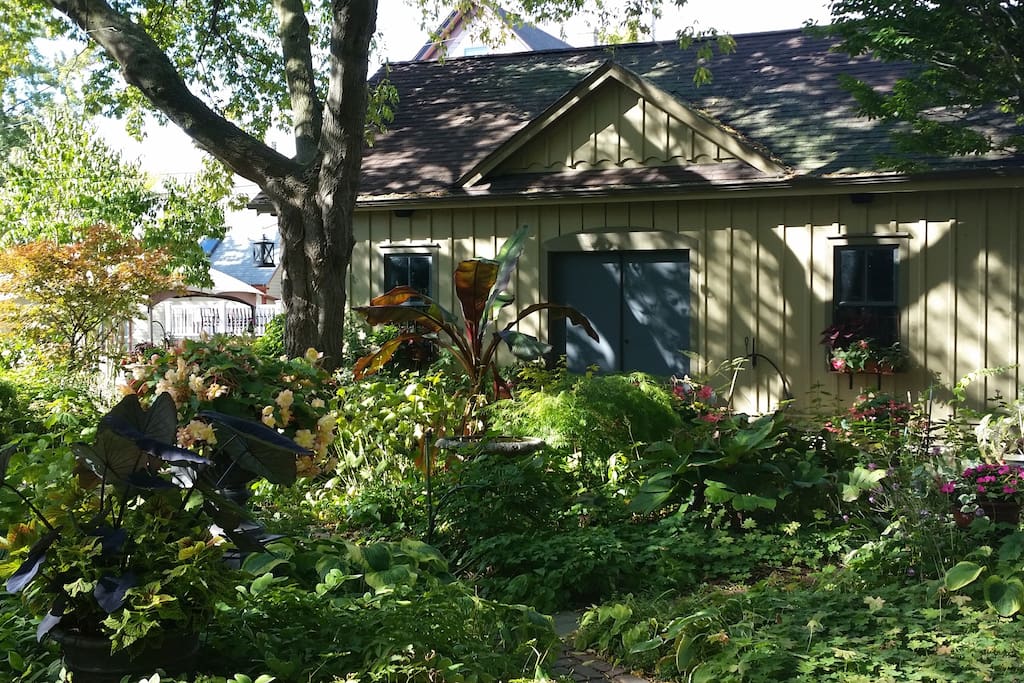 Located on the grounds of the picturesque Victorian Sanger House
Gardens this secluded downtown Bed and Breakfast Milwaukee location
is perfect for boutique weddings, events and stays. The Carriage House
accommodations have been tastefully restored by the current Hosts
providing luxury accommodation unparalleled in the area. The
enchanting house itself can comfortably accommodate two guests has
all modern conveniences, with two delightful verandas taking in the
garden vistas, which are perfect for alfresco dining as soft jazz music
serenades you!

---
What Our Guests Have To Say
---
The Carriage House in Sanger House Gardens was perfect for our

weekend trip to Milwaukee. The  location on Brewer's Hill puts you

right in middle of everything, and within walking distance to

some very cool places. The carriage house was clean and spacious,

with a comfortable bed and great amenities. Steve was very

responsive and easy to communicate with. We'll definitely be back next

time we're in town.
– Mike – Feb 2017
The carriage house is beautiful. My wife and I wanted a relaxing

weekend, and that's exactly what we got. The space was clean and

homey. Steve was very helpful with ideas of how to get around.

And the location is close enough to everything that you can walk most

places. I hope to come back when the garden is in full bloom!
– Matt – March 2017
The locations was incredible! Blocks away from Brady St, Water St,

and the Lakefront Brewery. Our and the Lakefront Brewery. Our

hosts recommended BelAir Cantina along with a $10off coupon, and we

enjoyed a wonderful time and meal. We went in the winter and can't

wait to return in the summer to see what we can tell will be gorgeous

gardens. The home is beautiful but still very accommodating for pets.

Easy to take our dog in and out. Make sure to register your vehicle with

with city of Milwaukee.
– Heather – March 2017
The charming garden house was the perfect spot for us to stay for

our long weekend in Milwaukee. We were able to easily walk to

fantastic restaurants, Lakefront Brewery, the Historic Third Ward,

and Veterans Park. Steve and Angela were great hosts. We learned

about the history of the home, neighborhood and even a little bit

about gardening. We would love to come back for another stay.
– Jim – April 2017
This is the coolest Airbnb we've ever had the pleasure to be guests of.

It's a secluded carriage house in a botanical garden right in the middle

of a wonderful neighborhood. Steve was extremely pleasant and helpful.

You know how you meet good people and you just know it instantly?

That's Steve. We easily walked to Lakefront Brewery, Wolski's, Water

Street, and Brady Street in ten minutes on a safe and pretty walk…..

And if I have my preference, I'll stay at Sanger House Gardens

every time for the rest of my life. If you're still reading, here's an

endnote. My girlfriend and I got engaged in the garden. That's how

sweet this place is. Thanks for reading!
– Walt – April 2017
Steve's cottage was excellent! I was in town for business and stayed

there instead of a hotel where my meetings were (and took a $7 uber

back and forth). The space was super clean, comfortable, secluded,

and quiet. Steve himself was very easy to communicate with and was

flexible with my check-in time. We chatted for a bit and it was very

nice to have my first trip to Milwaukee begin with such warm

hospitality. I would love to stay there again on any future visits.

Highly recommended. Thanks!
– Richy – May 2017
---
Bedroom
---
The large bedroom is located on the second -floor. It has been furnished with a tasteful mix of furniture, has a beautiful queen-size bed dressed with

a large plump duvet and sumptuous bed linen. Ample closet storage is available in the bedroom for your stay. You

will also find a desk which is perfect for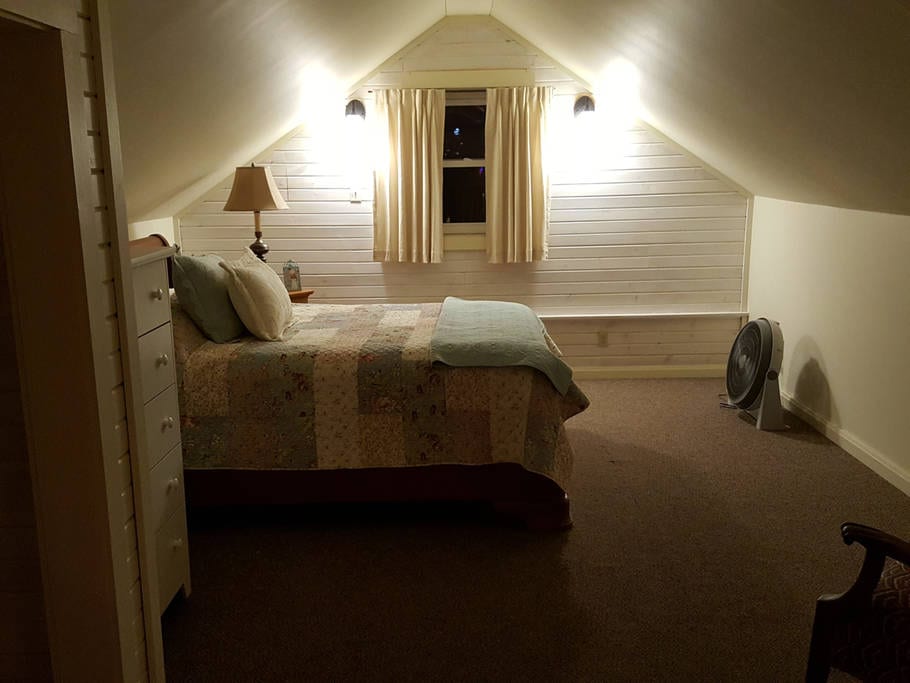 catching up on those last few emails before you relax or is the perfect space for budding writers to use as an oasis of calm during an extended writers retreat.
We also have a small table which has a computer printer available for your use.  There is a charging station and internet connection adjacent to the desk.  Our personal favorite thing about this room is the small striking window with its garden view, we love when the evening sun casts shadows through the garden. The room it's incredibly atmospheric.
We provide our bed & breakfast guests with plenty of pillows, extra comforters, and blankets for your use. If you need it we have an ironing board, iron & hair dryer for your use.  Let us know if you have a special request or need something for your stay. We will try to have it ready for you when you arrive.
---
Kitchen
---
At the Sanger House Bed and Breakfast Milwaukee, the kitchen has a combination of marble and Formica counter tops. In addition, the kitchen is well-equipped with all the modern amenities. Therefore, the kitchen includes a 15 cubic foot refrigerator,
gas cook top, microwave oven, toaster, and  Keurig coffee maker.  We supply a variety of K-cup coffee types along with seasonings, such as salt, pepper, ketchup, bottled water and two bottles of wine (red & white). If there is a special request, we will do our best to accommodate you. The kitchen comes fully stocked with glasses, dishes, silverware, napkins, paper towels.
---
Lounge
---
The lounge at the Sanger House Bed and Breakfast Milwaukee has two comfortable armchairs, a beige linen armchair and a wonderful classical style armchair upholstered in vintage brown leather,  a 50 inch smart TV can be found for your leisure.  The TV service is free. We use Roku internet network; it is equipped simply to use apps which bring you everything from local TV to 40 different providers including Spotify, HULU,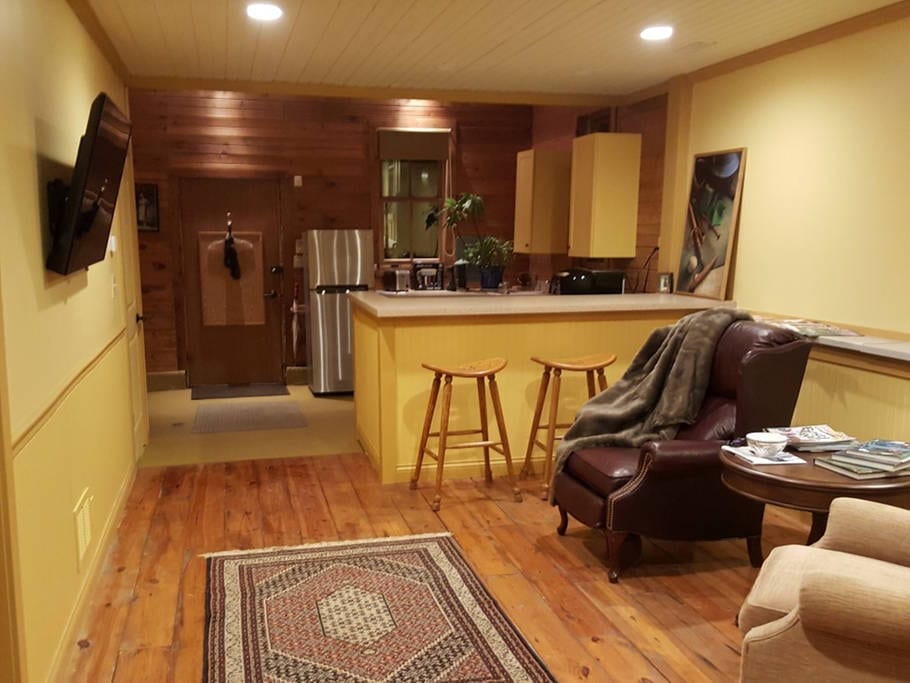 ACORN, Time/Warner channels. In addition, the entire space is equipped with free WIFI service along with ample charging and internet connections.
---
Shower Room
---
The bathroom is located on the first floor at Sanger House Bed and Breakfast Milwaukee. It is tiled on both the floor and shower walls, it has a ceiling light in the shower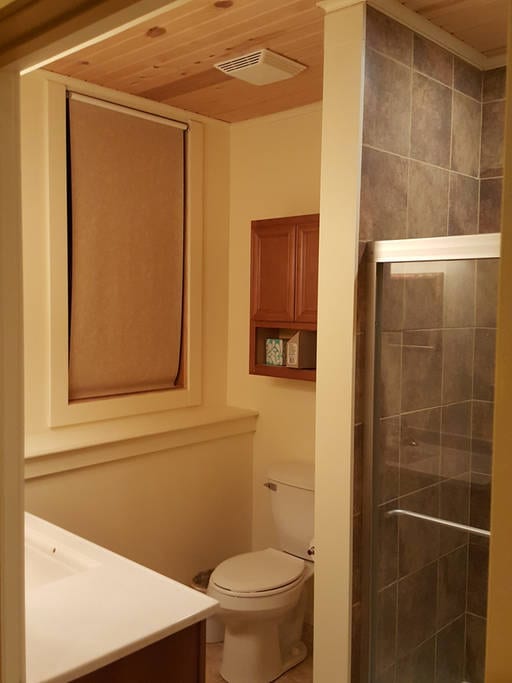 and has a spacious shower area with a large sliding glass door. We provide you with bath towels, face cloths, and hand towels. The sink and counter are large so you have room for all of your toiletries for a couple or yourself.  There is a large mirror over the sink basin with good bright lighting. We provide you with hand soap, toilet paper, and disposal paper towels.  The bathroom comes heated and air-conditioned.
---
Guest Access
---
Guests will only have access to their own private self-contained accommodation and access to the gardens.  The carriage house is a free-standing building which allows our guest easy private access. Our guests will find access to the carriage house from both the main street entrance or an alleyway entrance. Therefore, loading & unloading of luggage or equipment for events a bit easier. The carriage house has either a lock box for key availability along with an electronic keypad entrance, which makes for easy access for our visitors.  We can provide off-street parking for your vehicle.
---
Interaction With Guests
---
Standard check-in is 2 pm. We can accommodate guests until 9 pm that have delayed flights, weather issues or other emergencies.  Please let us know in advance so we can meet you.
We both live at the Sanger House and are on hand to help you if you need anything during your stay. However, if you have any questions about a wedding, event or stay before your visit please drop us a message and we will endeavor to get back to you straight away. All of the events held at Sanger House Gardens have to be approved by your Hosts in advance of the booking.