Jazz in the Garden
August 22nd, 2018
Doors Open Milwaukee
September 22nd-23rd, 2018
We Can Host Your Next Event

Built in 1872 Sanger House is a charming Victorian home, the magnificent gardens have 400 different plant varieties including, trees, shrubs, conifers, perennials, annuals, tropical & grasses. The urban gardens are visited by hundreds of visitors and horticultural enthusiasts each year. The gardens are a Milwaukee event venue capable of hosting everything from business events, Weddings, private dinners and Supper clubs. We have caterers who have worked at our venue over the years but we also allow our visitors to use a caterer of their choice. Some of the other services which we can offer are florists, photographers, musicians, bartenders and rental companies for tables, chairs, and staging. We know how challenging it can be to find beautiful wedding venues in Milwaukee. Then you have to transform the venue into a wedding venue worthy of your special day. Sanger House Gardens is a little-known secret in the heart of Milwaukee. With built-in decorations of countless flowers at Sanger House Gardens, easing the pressure on wedding coordinators and others that help decorate for the event. As one of the best Wisconsin wedding venues, we want to make sure your day is as seamless as possible.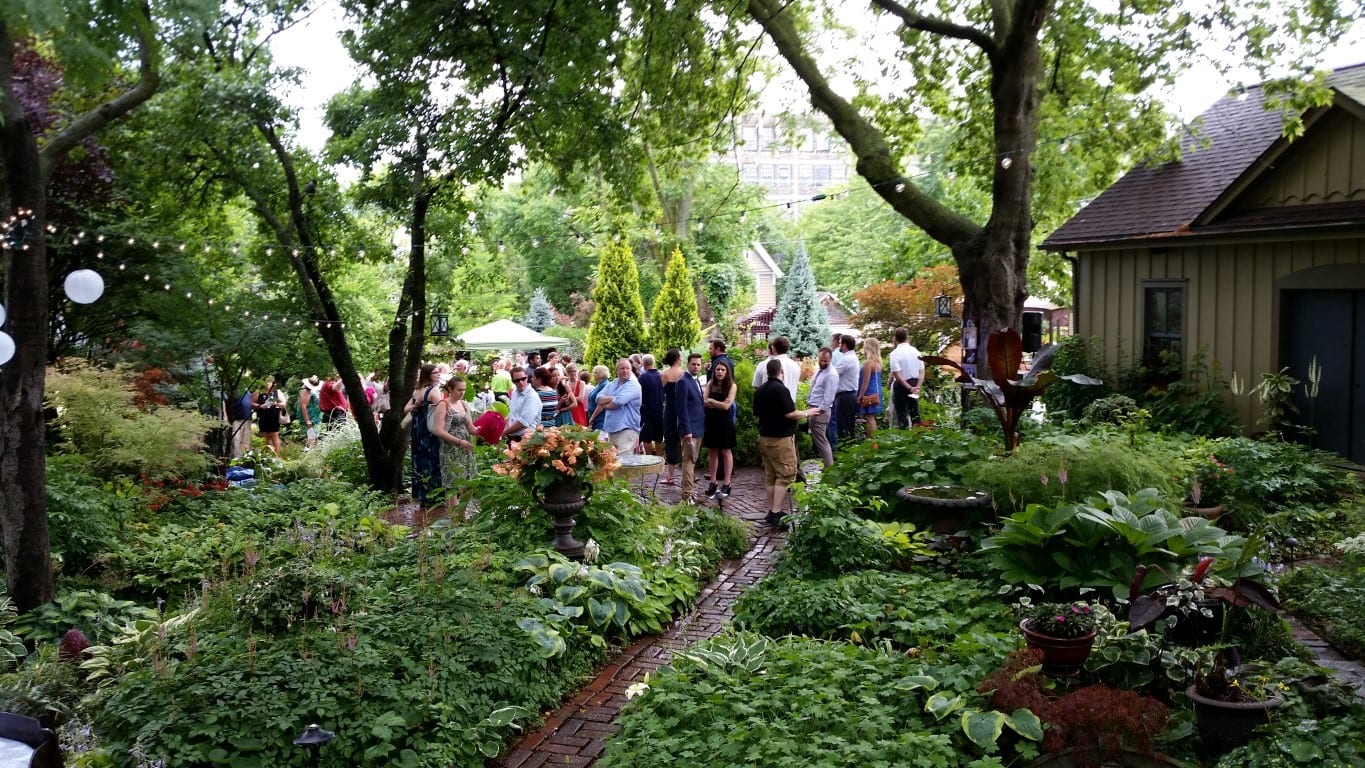 One of the many features we are proud to offer is the ability to hold the wedding and the reception all in the Sanger House Gardens. And the grounds are the perfect place to have your wedding photos taken. You are surrounded by a breathtaking, large garden that has wide expanses within the garden where memorable photos can be taken of the bride and groom, the wedding party, and more.
When you need Milwaukee event venues, Sanger House Gardens provides a breathtaking environment for a memorable wedding and/or reception. Wedding photos can't help but be spectacular with a backdrop worthy of being featured on the gardening show Great Lakes Gardener, in Fine Gardening magazine, Milwaukee Journal paper and many other gardening sources.
Over the years, we have hosted gorgeous weddings. The bride and groom bask in the glory of color that surrounds them in the garden. The natural decorations the flowers make for the ceremony an easier task. 
---
The Carriage House is made available as a staging area for the Bride, Groom, and wedding party to get ready for the wedding in addition to meeting needs that the catering staff  may need such as sink, refrigerator, counter space, etc. We are proud to be one of the premier Milwaukee event venues.
---
Other Events
Sanger House Gardens
Can Host For You
Wedding Shower
Baby Shower
Birthdays
Corporate Events
Fundraisers
Graduations
Bat Mitzvah / Bar Mitzvah
Corporate Events